LE DROIT D'AUTEUR ET LES PLATEFORMES

QUEL RÔLE ET QUELLE RESPONSABILITÉ POUR CES ACTEURS ?
Vendredi 3 décembre - De 14h à 17h - à l'Université de Namur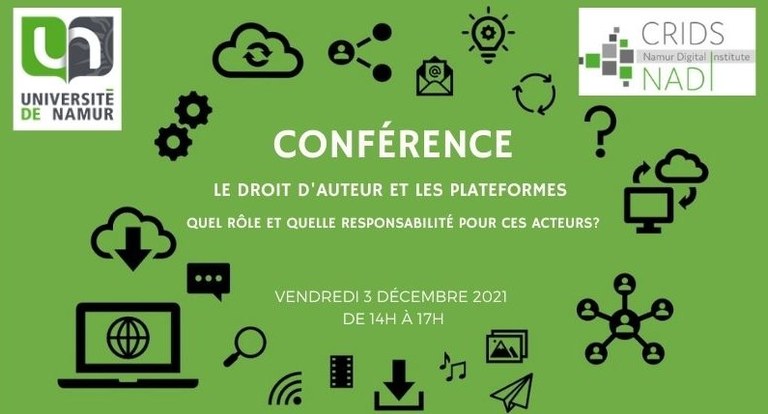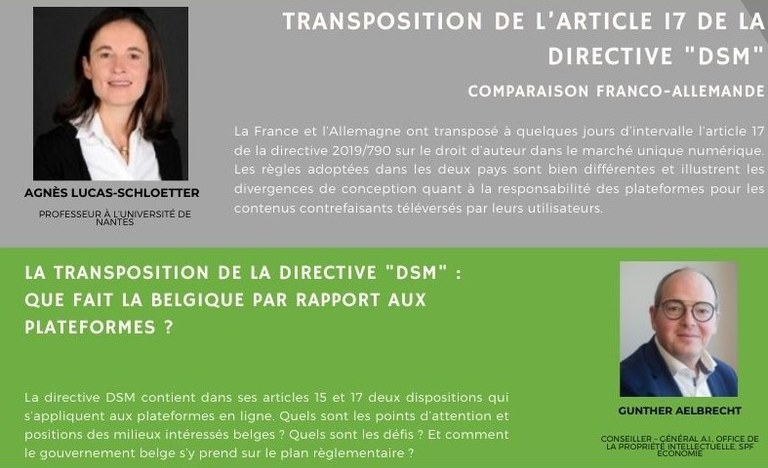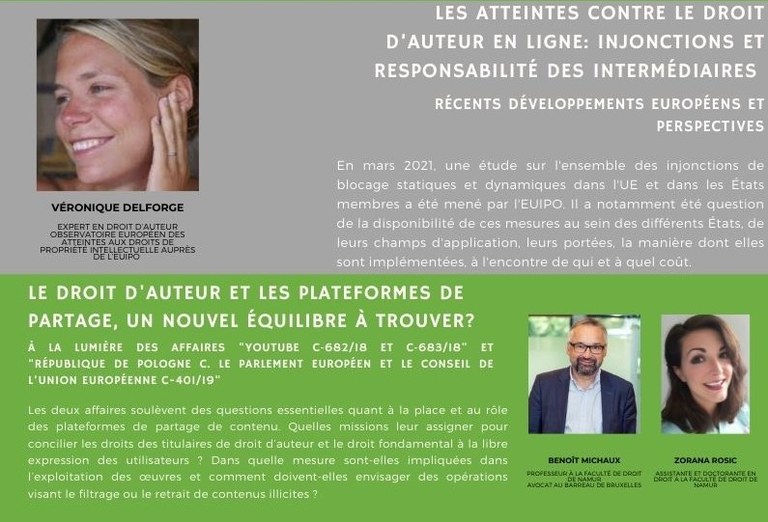 100 euros - Inscription et paiement en ligne (Présentiel)
80 euros - Inscription et paiement en ligne (tarif avocat stagiaire) (Présentiel)
50 euros - Inscription et paiement en ligne pour participation (Online)
Time to Re-shape the Digital Society
The 18th and 19th of November 2021 :

This two-day conference formally celebrates the 40th (+1) anniversary of the CRIDS (Centre de recherche information, droit et société - Information, Law and Society Research Center). Because of the pandemic, the celebration, which was initially planned to take place during the summer 2020 had to be postponed. It will take place on Thursday 18 November and Friday 19 November 2021 at the University of Namur.  The conference will be webcast but speakers are asked to attend in person if possible. If the Covid-19 situation is still problematic, the conference will take place fully online.
The theme of the anniversary conference is to reflect on the future of our digital society to make it a better place for the generations to come. Over the past 40 years we have seen technology develop and many attempts to tame and frame its impact on society. There have been some successes but also some failures.
The conference will assemble academics, researchers and practitioners from all over the world and from different disciplines (law, sociology, philosophy, communication and information studies, etc.) to reflect on a future framework for the development of a better digital society.
While a number of speakers will be specifically invited to present their vision, slots are open to researchers and practitioners through a call for papers, to be completed by 1 April 2021 (https://www.crids.eu/40ans/call-for-papers).  

For more information and inscription about the CRIDS, visit our website
@CRIDS
Depuis plusieurs années, l'activité législative est intense dans le domaine des nouvelles technologies de l'information et de la communication au point d'en devenir parfois indigeste. La législation – souvent, si pas exclusivement, dans le cadre de transpositions de normes européennes - couvre désormais des domaines les plus essentiels et les plus sensibles des activités sur les réseaux numériques telles que la protection de la vie privée, la lutte contre la cybercriminalité, la reconnaissance juridique de la signature électronique et la fixation d'un cadre juridique pour les services de certification, sans oublier la réglementation des services de la société de l'information et du commerce électronique.